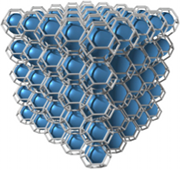 Discrete network of transport elements.
SAFE Barriers was a joint project between the Universities of Strathclyde (lead), Cardiff, Edinburgh, Glasgow, Newcastle, Nottingham and Oxford and the British Geological Survey funded by EPSRC and Nuclear Decommissioning Authority (NDA).

At the University of Glasgow, Peter Grassl, Simon Wheeler and Ignatios Athanasiadis were developing discrete modelling approaches to describe numerically the response of bentonite at the pore scale. Of particular interest was the interaction of water transport, heat transfer and mechanical response.
See Publications or contact me for more information.